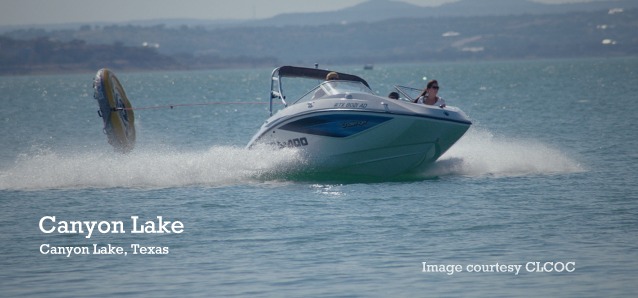 I've heard it said a number of times that it's all about location, location, location. Canyon Lake area is certainly no exception to this statement. The Canyon Lake Area is made up of Canyon Lake, the upper and lower Guadalupe River, and the town ships of Crane's Mill, Startzville, Sattler, Canyon City, Hancock and Fischer. Canyon Lake lies in the beautiful and scenic Texas Hill Country between San Antonio and Austin. Canyon Lake offers the opportunity for day trips to popular New Braunfels and Gruene, the San Antonio River Walk, and our state capitol in Austin, as well as favorite Hill Country stops like Bandera, Kerrville and Fredericksburg.

With 80 miles of shoreline, it is no wonder that Canyon Lake is also known as the Water Recreation Capital of Texas. But there is so much more. Canyon Lake is a year-round tourist destination offering recreational opportunities for a variety of interests. Whether you're an action type looking for boating and jet-skiing fun on the lake, a rafter or kayaker looking for some rapids or a family looking for a leisurely tube float down the Guadalupe River, Canyon Lake has all the water recreation there is to offer. If land loving is more your speed, the hill country offers several nature trails for the hiker, biker or equestrian enthusiast, prime bird-watching opportunities and our very own set of dinosaur tracks for the history lover in all of us. A variety of family and fine dining restaurants and shopping spots complete the Canyon Lake package.

You say that's not enough, cruise down scenic River Road, go fly fishing for Rainbow Trout in the cool waters of the Guadalupe, trek through the Canyon Lake Gorge, or do it ALL! From sunrise to sunset, Canyon Lake offers everything from a romantic get-away to fun-in-the-sun family vacations. Boasting everything from rustic tent camping to luxury condo accommodations and popular RV parks to private home rentals, Canyon Lake has just the stay you're looking for.

If you're in the area and need more information, please stop by the Visitors Center, located between the township of Sattler and Startzville on Farm-to-Market 2673. We have everything you could need in the way of local information, attractions and activities, pocket guides for your stay and complimentary maps. Stop in when you visit and say "hello!"