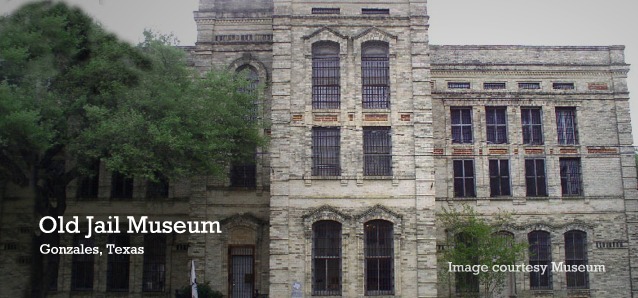 Old Jail Museum built in 1887, houses the Gonzales Chamber of Commerce & Agriculture offices Open Mon.-Fri. 8 a.m. – 5 p.m. Sat. 9 a.m.-4 p.m. Sun. 1-4 p.m.

Architect Eugene T. Heiner designed the brick structure to hold 200 prisoners under riot conditions. Contractor Henry Kane and Snead & Company Iron Works contracted to build the jail of concrete and steel for $21,660.20

Enter an entrance hall which was once the sheriff's office. To the left were three rooms, kitchen and bath used as the family living quarters for the sheriff or jailer.

All of the ceilings are made of corrugated steel and concrete. On the lower floor are display cases for articles taken from prisoners, information on the sheriffs, deputies and other law enforcement officials who served through the years.