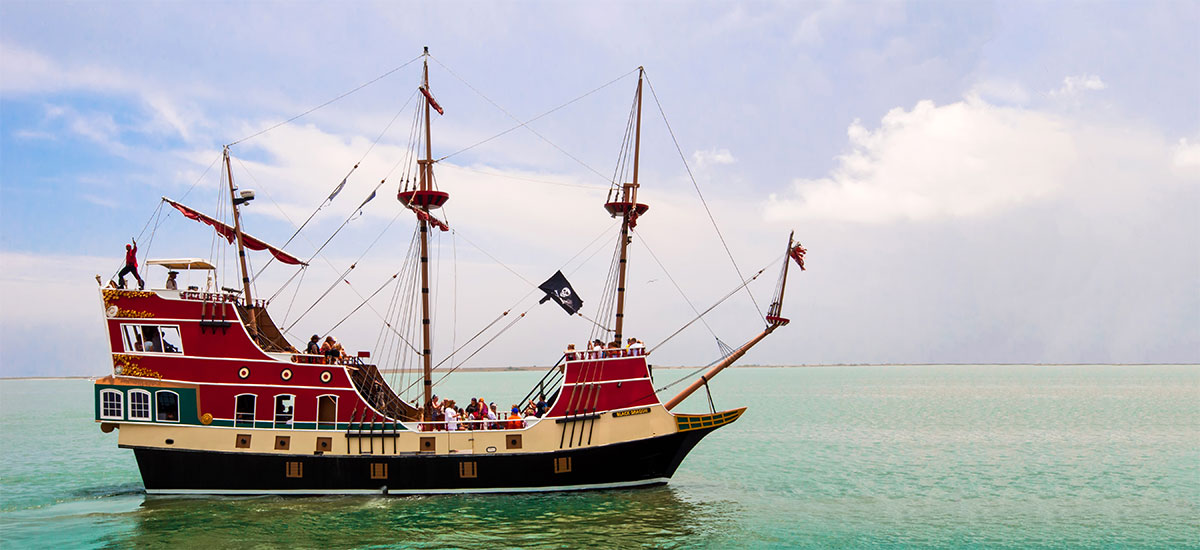 Shiver me Timbers and Splice me Mainbrace! There's strange goings on at South Padre Island and Port Isabel, TX. A gathering of thieves, brigands, piratefolk and back-stabbing blackguards the likes of which have not been seen since the days of Blackbeard! This musty group will capture you and sail the Laguna Madre while you enjoy your Grub and Grog.

The Black Dragon is a modern day replica of an 17th Century Galleon. Below the water line, she is a modern sea worthy vessel with the latest marine technology, but above the water, she is a trip back into time, to a place where the likes of Jean Lafitte sailed the waters of the Gulf of Mexico and the Laguna Madre making port right here in Port Isabel. Legend has it that Lafitte took refuge in this area and dug a well in Laguna Vista. Local ranchers formed business alliances with pirates who sailed their contraband between the Rio Grande and Corpus Christi. Now you can sail the same waters with Black Dragon Cruises.

All cruises include a crew of professional Pirates entertaining with Pirate stories, face painting, treasure hunt, water pistol battle, sword fighting, booty, music and loads of family fun for ALL ages!

Available for purchase on the ship: sodas, snacks, beer, wine, and our own special Black Dragon Grog. The covered onshore outdoor Black Jack's Galley is available for all special events. Capacity approx. 200. Catered meals to fit your budget available upon request. Also enjoy our Pirate games: Pirate Ship Dart Throw, Cannon Ball Toss and Jacob's Ladder located between Black Dragon store and Pirate's Landing restaurant under the World's Largest Fly Fishing Rod.