Downtown Aquarium Houston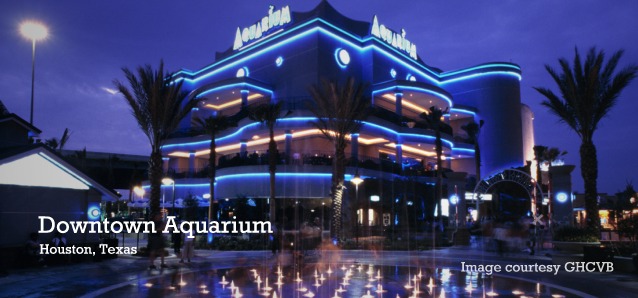 Part attraction, part restaurant, the 500,000-gallon Downtown Aquarium complex is multi-functional destination boasting a Ferris wheel, an aquatic carousel, Shark Voyage, a white tiger exhibit and a restaurant. The spectacular wall-to-wall aquarium view complements the surf-and-turf menu. Parents can dig into silky lobster bisque and crabmeat-topped Gulf red snapper, while the little ones nosh on popcorn shrimp, 'sand dollar' pizza and 'Captain's' grilled cheese. During dinner, keep an eye out for scuba divers feeding fish in the restaurant-set tank.
Exhibits include:
Louisiana Swamp
Tour the marsh and bayous of the Gulf Coast in the Louisiana Swamp. Enjoy wild encounters with American alligators, alligator snapping turtles, spotted gar, crayfish, catfish and bullfrogs.
Shipwreck
Step inside the sunken hull of a 17th century Spanish galleon in the Shipwreck exhibit and look out at the beautifully diverse species the ocean has to offer. View coral reefs created by Downtown Aquarium biologists. You'll also encounter a giant octupus, wolf eel and moray eel, clownfish, tangs and grouper.