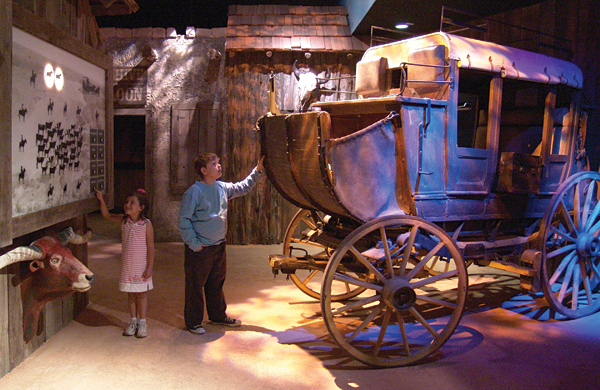 Frontier Texas! is the premiere, state-of-the-art and one of only a few storytelling museums in the world that features life-sized holograms of historical figures as museum guides, sharing real life accounts of the Wild West. These guides take visitors on the path to adventure by telling the real stories of the Texas frontier. The newly 2 million dollar, re-developed "Blood & Treasure on the Frontier showcase features a welcome theater where visitors are greeted by Buck Taylor, their "Trail Guide" for the entire experience. They are led through each exhibit that are dedicated to the natural history and earliest people in Texas, by holographic figures that come to life as visitors choose what story they want to hear. Each hologram has several options to choose from or you can listen to all of them at once. Visitors come back again and again to experience Frontier Texas! in a different way, simply by selecting a different story option. The "fan favorite," a 20-minute, six-screen Frontier Experience Theater concludes the entire frontier experience by putting each visitor in the center of an Indian raid, a west Texas Thunderstorm and a buffalo hunt. The impressive Guns of the West displays the Fort Phantom Hill Foundation extensive gun collection from the period.

Eight oxidized steel buffalo, "Buffalo Herd in the Sky" and giant buffalo skull on the courtyard in the grounds of the museum serves as beautiful reminders to visitors on the important historical aspects of the buffalo to this area. Buffalo Herd in the Sky is Texas' is the word's largest weathervane.

Frontier Texas! also serves as the Abilene and Forts Trail visitor center and is opened daily.