Dinosaur Valley State Park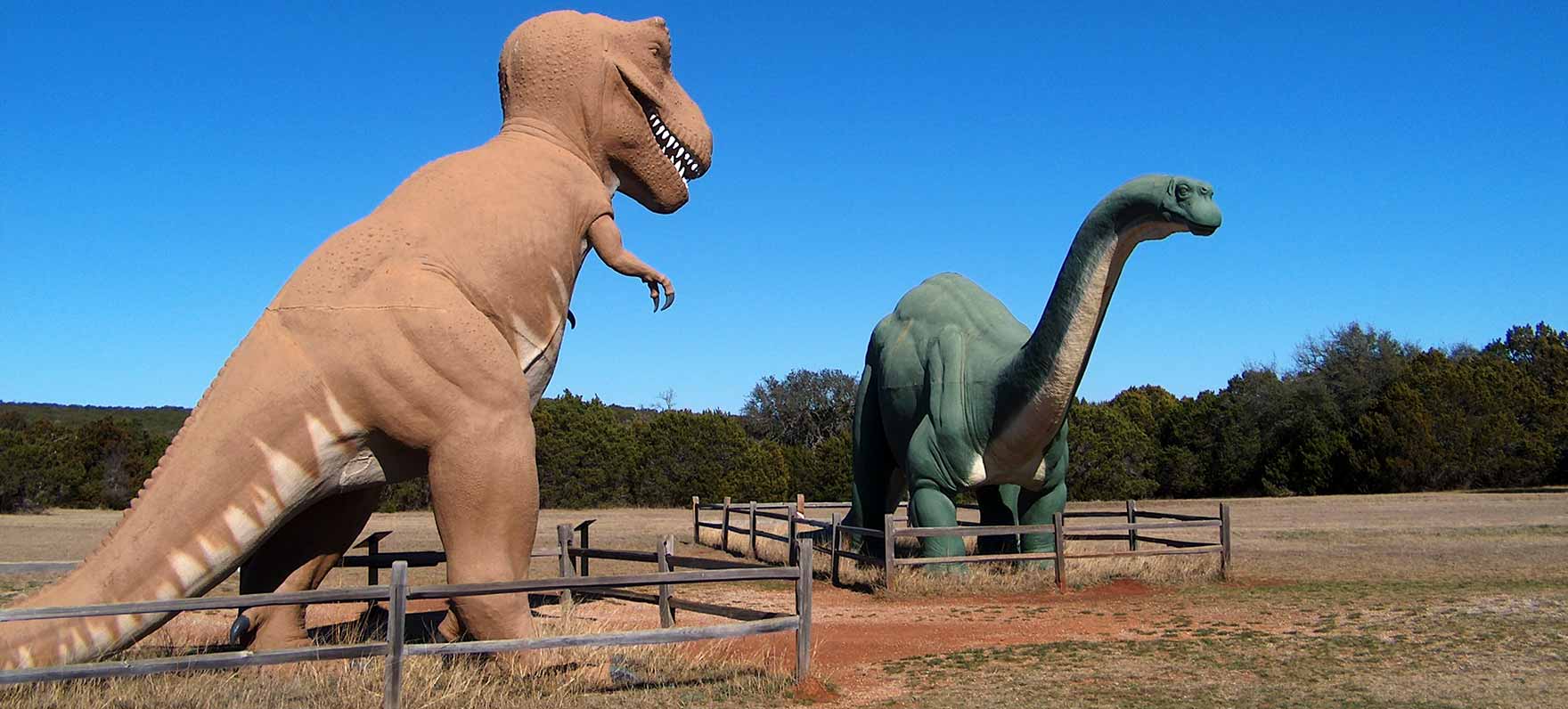 Where Dinosaurs Roamed!
Long ago, dinosaurs left footprints in the mud at the edge of an ancient ocean. Today, you can walk in their tracks in the bed of the Paluxy River. This long trip to the past is just a short drive from Fort Worth.
Things to Do
Find dinosaur tracks, camp, picnic, hike, mountain bike, swim and fish in the river, watch for wildlife, look for a geocache , ride your horse, or visit our interpretive center.
Stay at one of our regular or backpack campsites . Explore 20 miles of trails . Shop our park store for souvenirs, camping and fishing supplies, books and much more.
Discover Dinosaur Tracks: It?s easy to find dinosaur tracks in the park ? just head to the river!
Check river conditions before you come, as the tracks are in the riverbed and are not always visible: Call the park or check our Twitter feed or Facebook page.
Download maps on your GPS-enabled smartphone from our Mapping Dinosaur Tracks page.
Learn more on our Nature page. Ride Your Horse: Bring your own horse to explore the 100-acre South Primitive Area. The river runs through this wooded, semi-rocky part of the park. No potable water is available; horses can drink from the river (bring your own bucket).
Volunteer: We need your help! To volunteer:
Contact us!
Visit our Volunteer page (search on our zip code:? 76043).
Visit the Friends of Dinosaur Valley State Park . For more information:
Interpretive Guide to Dinosaur Valley State Park
Read our swimming safety tips before you swim.
Get the free Dinosaur Valley State Park/Glen Rose smartphone app from your app store. You can also access the app?s tour information online: Dinosaur Valley State Park
Glen Rose Ranger Programs
Observe dinosaur tracks, stars, wildlife and more at a ranger program. Or learn a new skill at one of our workshops; we teach archery, fishing and geocaching.
Check our Events page for upcoming programs and workshops.
Contact the park to set up a special tour or program for your group.
Borrow a Junior Ranger Explorer Pack for the kids in your group! Citizen?s Park Ranger Academy: Experience the adventure of working in a state park in this unique, five-week program. We cover wildland firefighting, search and rescue, interpretive programs, park operations, law enforcement and more. The program is free; students must be at least 15 years old. The upcoming academy will take place at Dinosaur Valley and Cleburne State Parks from April 4 ? April 25, 2015; visit the academy's web page to learn more.
Area Attractions
Glen Rose, the ?Dinosaur Capital of Texas? : ?Tour the square, visit Barnard?s Mill and Art Museum and the Somervell County Museum.
Fossil Rim Wildlife Center
Cedar Loop ? Great Texas Wildlife Trails :? Guide to the best places to see wildlife in this area.
Acton State Historic Site : ?Grave of Elizabeth Crockett, wife of Texas legend Davy Crockett.
Comanche Peak Visitors Center: ?Learn about nuclear power. Call (254) 897-5554 to schedule a visit.
- FACILITIES -
CAMPING
PICNIC
PLAYGROUND
SWIMMING
TRAILS
BOATING
GOLF
GEOCACHING
SHOWERS
RESTROOMS
STORE
BEACH
FAMILY
TENTS
POOL
SHADE TREES
50 AMP
WIRELESS
TRAILS
FISHING
MARINA
HOOKUPS
ELECTRIC
DUMP
SEWER
WATER
FIRERING
GRILL
FIREWOOD
LAUNDRY
PROPANE
PETS
WATERFRONT
CABLE
PULLTHRU