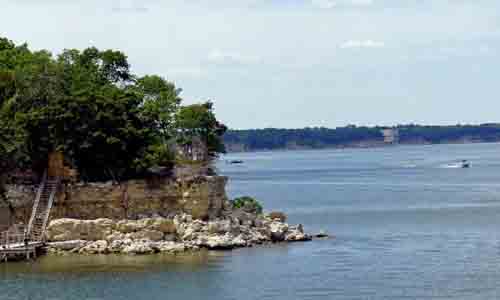 Things to Do
Rentals and marina services are provided by a privately operated marina located in the park. Park visitors can hike and bike on scenic trails that border the lake shore. An ATV trail offers enthusiasts a place to ride along the wooded hills of the park?s backcountry ( OHV permit required ), Shaded campsites accommodate RVs and tents as well as screened shelters , group facilities , and a limited service cabin .
Detailed fishing and lake information for Lake Texoma
Swimming Safety Tips
Eisenhower Junior Ranger Activity Booklet Equipment Rentals
The Eisenhower Yacht Club , privately operated, provides a variety of marina services and rents pontoon boats. For information and reservations, contact the Eisenhower Yacht Club - 2141 Park Road 20, Denison, TX, 75020-4883; Phone: (903) 463-3999; Fax: (903) 465-8906; e-mail:?eyc@eisenhoweryachtclub.com
This park participates in the Angler Education Tackle Loaner Program ; individuals can borrow rods, reels and tackle boxes with hooks, sinkers and bobbers.
Ranger Programs
Nature/environmental programs are frequently scheduled throughout the year and upon special request with enough lead time; check the calendar for upcoming events and programs . There is a small amphitheater available for group use.
Interpretive Guide to Eisenhower State Park
Armadillo Hill Nature Trail Guide
Eisenhower State Park ? Recipes for the Birds
Eisenhower Junior Ranger Activity Booklet
Ask about the Junior Ranger Explorer Packs available for free checkout at the park. Area Attractions
Nearby attractions include Eisenhower Birthplace State Historic Site; ??Bonham State Park ; the Grayson County Frontier Village, a rustic 19th century structure and museum; and the Hagerman National Wildlife Refuge , which boasts 11,300 acres of land and water known as a haven for migrating and wintering waterfowl.
- FACILITIES -
CAMPING
PICNIC
PLAYGROUND
SWIMMING
TRAILS
BOATING
GOLF
GEOCACHING
SHOWERS
RESTROOMS
STORE
BEACH
FAMILY
TENTS
POOL
SHADE TREES
50 AMP
WIRELESS
TRAILS
FISHING
MARINA
HOOKUPS
ELECTRIC
DUMP
SEWER
WATER
FIRERING
GRILL
FIREWOOD
LAUNDRY
PROPANE
PETS
WATERFRONT
CABLE
PULLTHRU