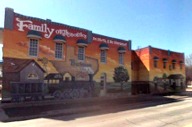 The town of Burleson began during the early 1880?s. According to Burleson - The First Hundred Years, the land for the town was purchased by Mr. G. M. Dodge from Reverend H. C. Renfro. An early abstract records Mr. Dodge as being from Pottowattamie County, Iowa. The town was named for Dr. Rufus C. Burleson, President of Baylor University at Waco.

Through the years Burleson has grown to a population of over 26,000. The city has become a commercial hub of Johnson County and one of the most livable communities in the Dallas/Fort Worth metroplex. The heritage of the community is strong and is kept alive through the Burleson Heritage Foundation. Burleson... more than a whistle stop. It's a visitor's delight! Founded in 1881 along the M-K-T Railway tracks in open range livestock country, Burleson has grown into a center for commerce and industry. The years have brought prosperity and growth, as well as a diverse economic base.

Burleson reflects on its history as it plans for its future. Located just 12 miles south of downtown Fort Worth, Burleson affords the benefits of suburban living, plus the advantages of being a part of the Dallas/Fort Worth Metroplex.