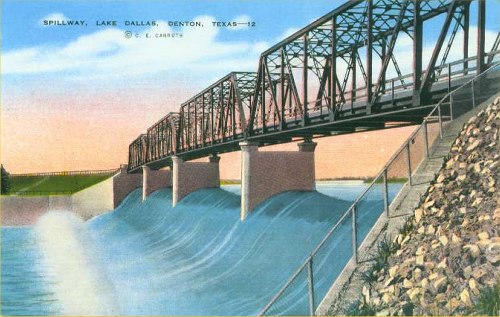 Denton, the county seat of Denton County, is on Interstate Highway 35 where it forks to become 35E to Dallas and 35W to Fort Worth near the center of the county. Less than forty miles north of the cities, Denton has become closely associated with the Dallas-Fort Worth metropolitan area. The city was not an early settlement. It was founded in 1857 in order to become the county seat, because residents wanted one located near the center of the county. Hiram Cisco, William Woodruff, and William Loving donated 100 acres as the site for the town, which, like the county, was named in honor of John B. Denton. A commission composed of Otis G. Welch, sometimes known as the "Father of Denton," county surveyor Charles C. Lacy, and Joseph A. Carroll laid out the city. Although it was established in 1857 and a courthouse was built on the north side of the square, Denton was not incorporated until 1866. The charter provided for election of a mayor and five aldermen. J. B. Sawyer was elected the first mayor.

In its early years Denton grew slowly from 361 persons, thirty-two of whom were black, in 1870, to 1,194 in 1880. But in the decade of the 1880s the city experienced its largest percentage growth in any decade up to the 1980s. The population more than doubled, to 2,558 in 1890, as the Texas and Pacific Railway from Sherman to Fort Worth and the Missouri, Kansas and Texas to Dallas, both completed in 1881, gave the city a rail outlet. The Gulf, Colorado and Santa Fe, built in 1887 across western Denton County through Valley View, Krum, and Sanger, missed Denton and was not connected to it until about seventy years later. Since Denton had only north-south rail connections, the town did not develop as a manufacturing and wholesale center.

The city's growth in its first century depended on its position as the county seat, its role as a local agricultural trade center, and its function as a center for light agriculture-related manufacturing concerns, like flour mills and cottonseed oil mills, and small cottage industries, like pottery kilns and blacksmith shops. After 1890, however, Denton did have a feature to distinguish it from the seats of other agricultural counties. It became a college town when North Texas Normal College (now the University of North Texas) was established in 1890 and the Girls' Industrial College (now Texas Woman's University) was established in 1903. Although the colleges' influence was slight for several years, they ultimately did more to establish the character of Denton than any other single influence. By the 1980s, with a total enrollment of almost 25,000 students, the two universities provided half the city's population and greatly influenced its cultural and economic life.