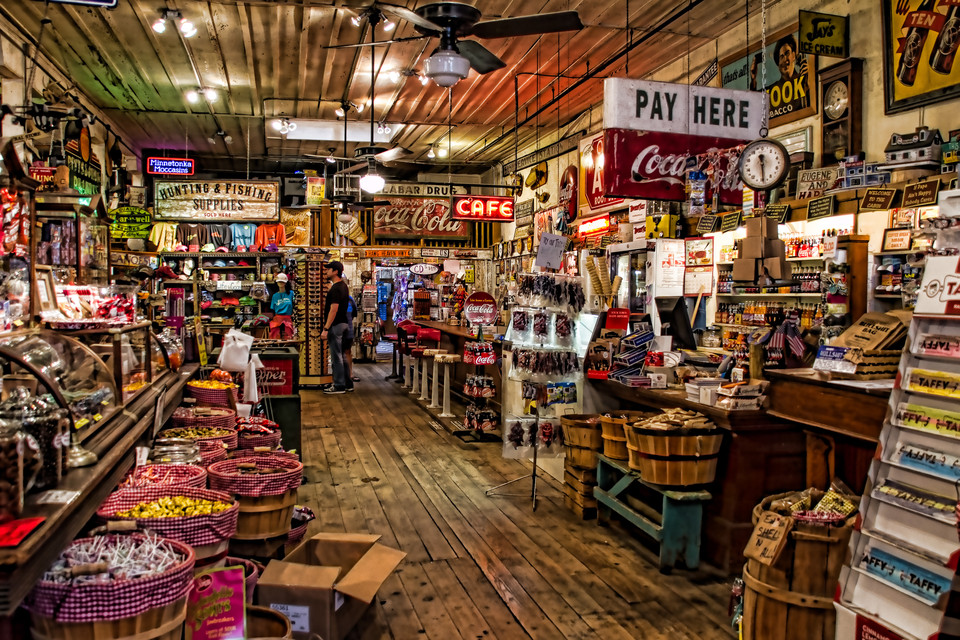 Jefferson General Store
The Jefferson General Store's soda fountain is as authentic as they come. Memorabilia from days past adorn the walls of this old 1860's building. It's differently a must do for kids of all ages.

The building in which the Jefferson General Store currently resides has had a long history of serving the people of Jefferson. The building was built in the 1860's by Rudolph Ballauf and sons to be the first hardware store in the burgeoning river-port town. The Ballauf's also owned three "cotton packet" riverboats, including one called "The Friendly". You can see a picture of this riverboat at Auntie Skinner's in downtown Jefferson today. The location of the building was ideal as it was near a "turning basin" for the riverboats. One lasting ruminant of the Ballauf's tenure is the large cast iron safe that is still used by the current owners of the building. Near the turn of the century, Rudolph's daughter, Emma and her husband Eugene Meyer Sr. took over the store. The Meyer's had five sons: Ernie, Eugene, Asa, Freddie and Paul. The store's name was changed to "Eugene Meyer & Son Hardware." They ran the store until 1977.

Cliff Bode bought the store with contents in 1979. There were still plow points and wagon wheels among the stock. Mr. Bode operated "Steamboat Warehouse" out of the building until he and his wife, Anna, officially changed it to the" Jefferson General Store" in 1991.
- GETTING HERE -