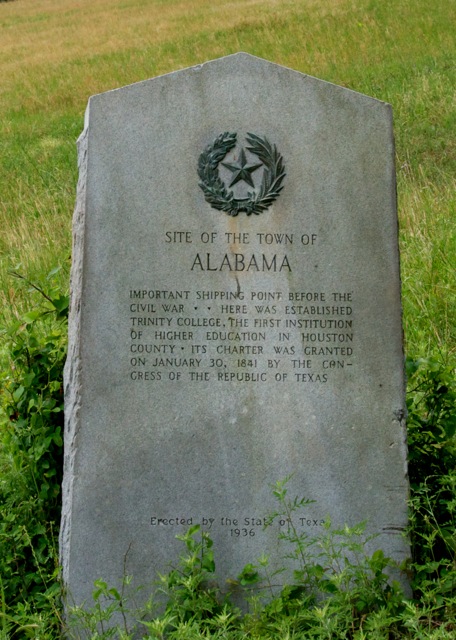 Alabama was a post office community and steamer stop on the Trinity River ten miles southwest of Crockett in western Houston County. It was established in the 1830s. In 1841 the Texas Congress chartered Trinity College, which operated in the community before the Civil War. An Alabama post office opened in 1846 with A. T. Monroe as postmaster. The community prospered for many years as a shipping point for plantations in western Houston County but began to decline in the 1870s, when the railroad supplanted the Trinity steamboats. The post office was closed in 1878, and by the 1880s many of the businesses and residents had moved away. A school was still operating at Alabama in 1897, but by the mid-1930s only a few scattered houses remained. Alabama appeared as a place name on maps as late as 1946.

Marker Text: Important shipping point before the Civil War. Here was established Trinity College, the first institution of higher education in Houston County. Its charter was granted on January 30, 1841 by the Congress of the Republic of Texas.

Photos provided by the property owner. This marker is located on private property. Do not enter the property without permission of the land owner. You may contact All Across Texas and we will pass along any message to the owner.
Read More About Alabama
- Some Say It Was Right Here -